Labyrinth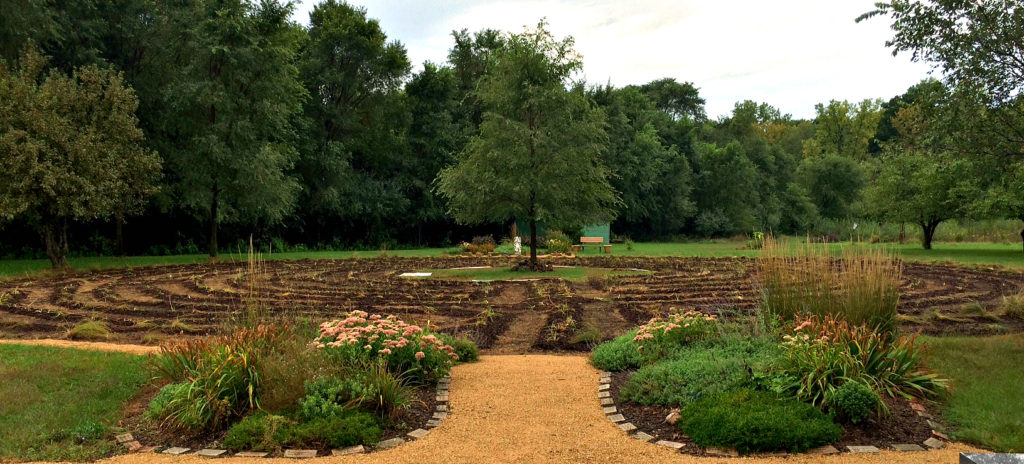 People's Church maintains the largest, free, and open to the public labyrinth in Minnesota.  It can be found on our land at 1003 Fifth Avenue North in Bayport, adjacent to Barkers Alps Park.
The labyrinth is over 25 years old.  The original designer, Lisa Gidlow Moriarty, patterned our labyrinth after the Chartres Cathedral labyrinth, located in Northern France.  There is no biblical connection to the labyrinth, the labyrinth is an archetype, a divine imprint found in many traditions in various forms all around the world.
Labyrinths transcend geographic, cultural and religious boundaries, and, it would seem, that labyrinths may have sprung up in different parts of the world simultaneously.  Archaeology dates the labyrinth back to the Bronze Age, when simple seven-circuit labyrinths began to show up in Europe, the Middle East and parts of Asia.  They appeared as carvings and drawings on clay tablets, stone walls and earthworks. They were later seen as designs for mosaics, house decorations, manuscripts and coins.  The earliest Christian labyrinth is most likely the classic 7-circuit one found in the fourth century basilica of Repartus, Orleansville in Algeria.
A labyrinth is different from a maze. Mazes have many paths and dead ends; they are about multiplicity, choice and strategy. Labyrinths, which pre-date mazes, have just one path. They are about guidance, trust and reflection.
Our labyrinth is a large area of about 7500 square feet, and walking its 12 circles takes about 752 yards to complete.
Please enjoy walking the labyrinth while it grows and transforms through the seasons.
Walking a labyrinth is so simple that it's better done than described.  You may wish to walk by letting go of all thought, attending only to your path. You may wish to walk with a question in mind, or a prayer.  Each time you walk the labyrinth will be different, yet with these common goals: to release and quiet, to open and be receptive, and to take what is gained back out into the world.
PCC Peace Community Garden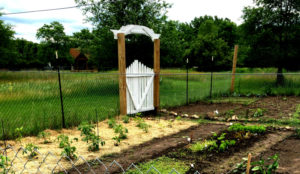 The "Peace Community Garden of Bayport" is blossoming. We will soon be entering our third planting season! If you would like to join with our Garden Community, please call the church office at 651-439-5667.
Outdoor Worship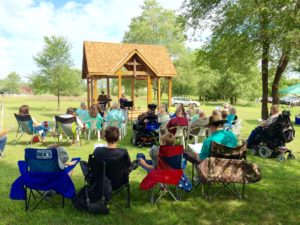 People's Church holds outdoor services in the summer, generally every other weekend beginning in June.
ALL are welcome!  Please check our calendar and this space for updates as we enter spring and summer.
Bring a blanket or a lawn chair to sit on!