Current, Ongoing Groups | all are welcome-jump in anytime!
---
Weekly Tai Chi Chih
(A Gentle Form) with Mary Ann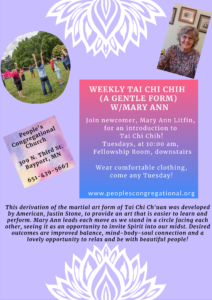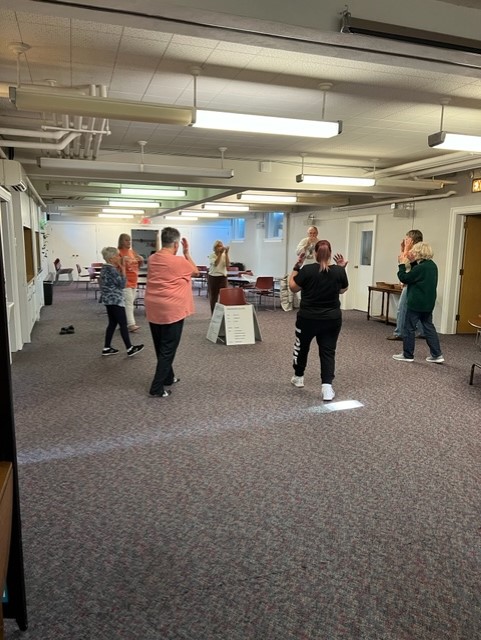 Join newcomer, Mary Ann Litfin, for an introduction to Tai Chi Chih! Tuesdays at 10:00 am, in the Fellowship Room, downstairs at church... ...all are welcome!  This derivation of the martial art form of Tai Chi Ch'uan was developed by American, Justin Stone, to provide an art that is easier to learn and perform. Mary Ann leads each move as we stand in a circle facing each other, seeing it as an opportunity to invite Spirit into our midst. Desired outcomes are improved balance, mind-body-soul connection and a lovely opportunity to relax and be with beautiful people!
Jan. 25 via Zoom
---
People's Book Club
People's Book Club is open to the wider community! We aim to read books that matter from diverse genres, topics and authors.
We discuss each book across 2 gatherings. Pastor Clare facilitates.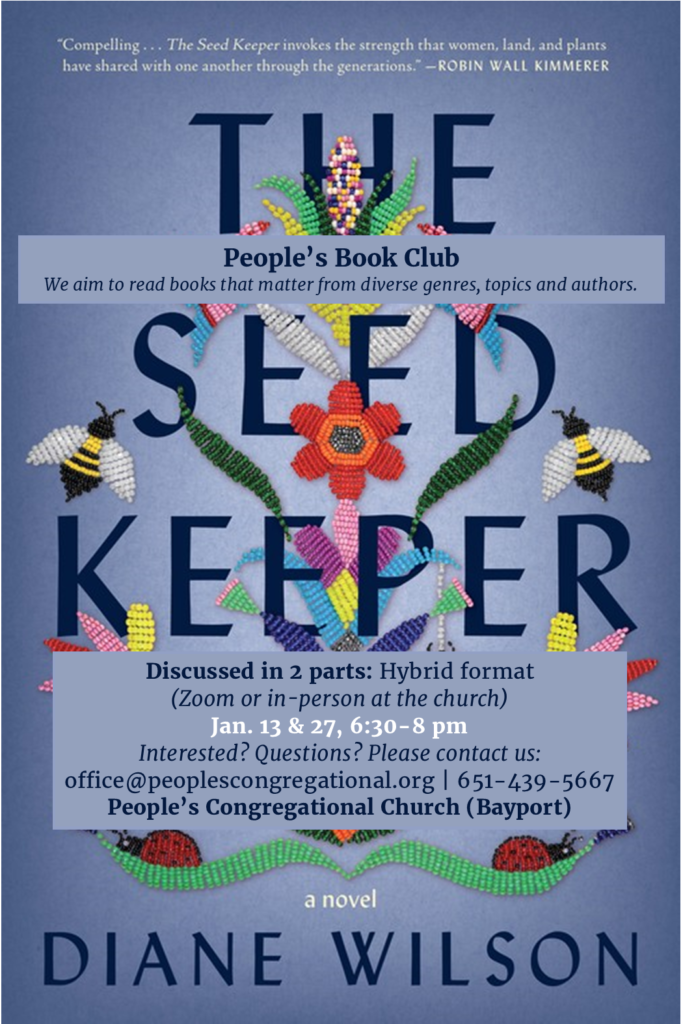 Calling all readers! We will read local Dakota author Diane Wilson's debut novel, The Seed Keeper, across the latter part of January. We will be hybrid, with some of us gathering in person at church to connect with others via Zoom.
If interested in reading The Seed Keeper with us, please contact the office.
Thursdays —1/27, 6:30-8 pm
Our People's Book Club is a wonderful way to invite people in the wider community to engage with us. Please share the image above on social media or via email. Please print the the poster and hang it up at your favorite coffee shop, gym, or other local spot (click here to print a pdf).
 People's Congregational Church is inviting you to a scheduled Zoom meeting.
Join Zoom Meeting
https://us02web.zoom.us/j/85293883652?pwd=R1kzL1pNYlkwOEhFMHhQOU5qaU04QT09
Meeting ID: 852 9388 3652
Passcode: 979624
---

Stillwater Area Theological Discussion Group
Bimonthly topical discussions among people of all faiths & spiritual paths

On Hold for now

---
Garden Gathering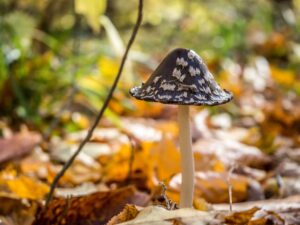 Thursdays, 9:30 a.m., People's Church
309 N. Third St., Bayport, or church Fellowship Hall
(masked and socially distanced) 
Using "The Upper Room" devotional, which can be found in the narthex,
the group reflects and shares on the lesson for the week.
All are welcome and newcomers encouraged!
Contact office for more details.
---
PCC Choir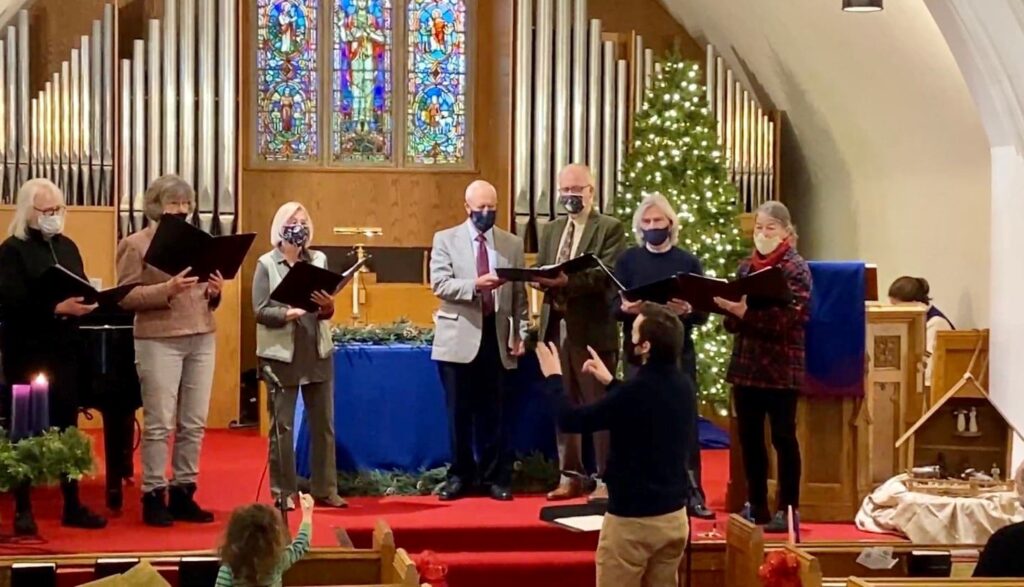 Our choir invites participation by any youth (gr. 6+) or adult who enjoys singing and reads music.
We rehearse most Sundays, 8:30-9:15 am, and sing anthems twice per month.
Rehearsal is on hold for now
---
Wider Community Groups Who Meet in Our Church Building
---
AA Meetings
Church Fellowship Room (no childcare at this time)