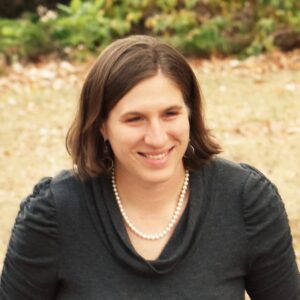 Clare Gromoll, Pastor
Pastor Clare strives to be a collaborative leader, partnering with members and friends of People's Church toward deeper connections with one another and expanded partnerships within Bayport and the wider St. Croix River valley community. Prior to beginning her ministry with People's in March 2021, Pastor Clare served as Associate Minister of St. Paul's United Church of Christ in St. Paul, MN. She became an ordained UCC minister in 2014 after graduating from United Theological Seminary of the Twin Cities. Before discerning a call to ordained ministry, Clare worked in year-round outdoor ministry in Texas and as a bilingual elementary school teacher in Texas and Wisconsin. Beyond the church, Clare daily enjoys playing with her sons (Sam is six, Jonah is three) and jogging as a way to tend to the wellbeing of her body, mind, and spirit. She also enjoys the more occasional delights of reading fiction, taking in live music, and visiting her parents in Eagle River, WI. Clare describes herself as guileless, loving, confident, curious, analytical, pragmatic, and flexible. She values simplicity and artistry. She believes that we are called as Christians to the work of dismantling systemic oppression and honoring the inherent worth and lived experiences of every member of creation. Pastor Clare hopes you will reach out to her to learn more about our congregation!
---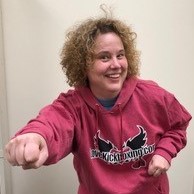 Kimberly Jackson, Office Ministry Coordinator
Kimberly has been the office staff since 2018. She has a diverse background that includes being a Nationally Certified Massage Therapist. She has a BA in Marketing/Sales from Georgia Southern University. "I want to express my gratitude for all of you this year. As the lone person in the office, I never felt alone. Thank you for all the phone calls, cards, emails, check-ins, little surprises just when they were needed most, the love, so much love from all of you, and the willingness to come to my aid with the help that I needed for the building or the projects that I had concocted. Many have said that I have kept the "church" going through this unprecedented year, well it was accomplished because I had your support and I felt it! I am grateful and blessed to be your Office Ministry Coordinator and to have you all in my life. Thank you from the bottom of my heart for making this awful year bright in so many ways."
---

Sharon Neuenfeldt, Worship Accompanist
Sharon plays the organ, piano and clavinova for Sunday worship services. Sharon describes herself as dedicated, sensitive, musical, caring, honest and dependable. "The things I like about People's Church include the staff, congregation, choir, Sunday services and the instruments."
---