All are welcome!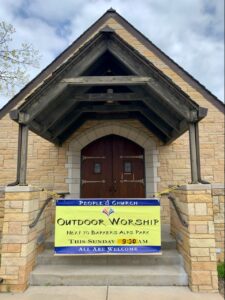 Outdoor In-Person Worship & After-Worship Fellowship
Sundays at 9:30 am
(masked and socially distanced)
People's Park, 1003 5th Avenue N., Bayport
Masks are mandatory.
At People's Congregational Church we seek always to be a vibrant faith community that engages people in transforming acts of service in the world.   Worship is at the core of our community of faith.  We worship to give thanks and praise to God, to have the Word of God revealed to us, and to remember to Whom we belong.   Our worship is inclusive, welcoming, and Christ-centered.  Our blended worship services combine contemporary and traditional elements to equip and empower members of our community to live fully into Christian discipleship.  We encourage newcomers by offering a hospitable space to experience God's grace. When we celebrate the Sacrament of Holy Communion on the second Sunday of the month, we offer the sacrament to anyone who wishes to participate.